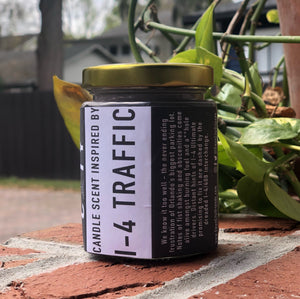 Swan City
I-4 Traffic Candle
Regular price
$15.00
$0.00
Take your nose on a journey through scents inspired by Orlando places and things such as I-4 Traffic:
We know it too well - the never ending frustration of Orlando's biggest parking lot. Notes of fist shaking and obscenities come alive amongst burning fuel and a**hole drivers. Distant hints of I-4 Ultimate promising to fix it are dashed by the dreaded I-4/408 interchange.
Note Profile:
Top: Motor Oil, Burnt Rubber
Middle: Exhaust, Fuel
Base: Sheer Anger
Each candle is made of 100% soy with a 100% cotton wick. They are all hand poured in the Swan City nest and come in hexagonal glass jars holding 6 oz of heavenly scent. Don't be deceived by their small size because these candles burn for around 30 hours!
---
More from this collection