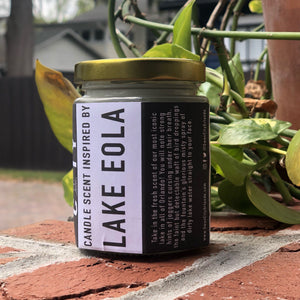 Swan City
Lake Eola Candle
Regular price
$15.00
$0.00
Take your nose on a journey through scents inspired by Orlando places and things such as Lake Eola:
Take in the fresh scent of our most iconic lake in all of Orlando! You will note strong hints of joggers cursing under their breath, the faint but detectable waft of bird droppings and the fountain's glorious misty spray of dirty lake water straight to your face.
Note Profile:
Top: Damp Joggers, Ozone, Cypress
Middle: Jasmine, World of Beer, Orange Blossom
Base: Bird Droppings, Amber
Each candle is made of 100% soy with a 100% cotton wick. They are all hand poured in the Swan City nest and come in hexagonal glass jars holding 6 oz of heavenly scent. Don't be deceived by their small size because these candles burn for around 30 hours!
---
More from this collection